Custom Signs and Banners for Your Business or Special Occasions.

Getting Prices on Custom Signs Has Never Been Easier or Faster, No Matter What Size Indoor or Outdoor Sign You Need
When it comes to signage, it's surprisingly difficult to find pricing information online! But you can now use our Online Pricing System to accurately price an unusually large variety of signs, custom banners and vinyl letters for your storefront window or company vehicle. To get started, make your selection below.
Try our sign price guide, vinyl decal pricing guide or contact one of our customer service specialists for all your pricing needs. We also have a large variety of sign material to meet your specific application and purpose. With a quality product, unmatched professionalism and prompt delivery, we achieve to give you the best signage pricing, the best product, with the best service.
Applying a Large Vinyl Graphic
How to Lay A Large Vinyl Graphic
6:37min
Frequently Asked Questions About Ordering Custom Signs and Vinyl Banners Online
"Are your custom vinyl banners dressed for success?"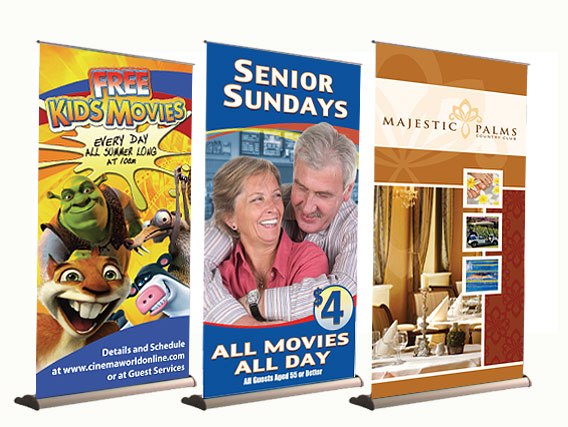 Choosing the right material for your custom vinyl banners is an important part of the banner design. There are so many variables it can be confusing. We are here to help clear up the confusion and give you the information to make an informed decision. The material you choose is important for both the look of the banner and the life span of it.
Most of us have seen the cheap banners in our local gas stations. They are a shiny plastic material normally hung on a string and they advertise things like a special price on some product. Quite often the sale price is even written in with a marker. These banners are common for large corporations because they are very inexpensive. The problem is they also look cheap. Chances are you have seen these banners. Do they promote the image you want for your event?
To get the most value for your money you want to choose a vinyl material that will promote a positive image. Most of our clients prefer a high gloss material. We recommend the 14 oz. heavy duty banner material with a scrim. A scrim is a weave that is part of the material and adds durability and tear resistance to your full color banner. The gloss of the vinyl makes the colors come alive on a banner. They are rich and vibrant and help promote your message.
While the 14 oz. heavy duty banner material is great for both indoors or out, For those who are using the custom banner signs indoors you have another option. There is a super smooth material which has no scrim (this is why it is recommended for indoors only) as well as a matte finish. The matte finish helps to keep glare off of the banner that can be caused by lighting. It is perfect for banners that will be viewed up close. Unlike most banner companies, we offer this material every day. When you know the material that you want, you need to consider the size to make your vinyl banner signs easily readable.
"What exactly are custom signs?"
"Custom Signs" refers to an unusually versatile range of made-to-order products provided by BestBuySigns.com. All types of business signs, banners, engraving, corporate awards, name tags, name plates and other engraved signs can be cost effectively produced to match your exact preferences. New signs are shipped daily from our manufacturing facility located in historic Charleston, South Carolina.
Design options for custom business signs and custom vinyl banners include simple, clean layouts to vivid, full-color digital signage. Clients have a virtually unlimited range of options to choose from. Highly specialized computerized sign making equipment has made custom signs readily available to small and large businesses alike. Specialty signage such as custom real estate signs and custom vinyl church banners help represent the variety of our product offering. The fact is, we offer just about every kind of business sign you can imagine, except billboards.
"How do I spot the most costly banner mistakes, before I make them?"
Today is the big day! The event has been in the planning process for what seems like forever. You have made sure that everything is ready and all the people have done their jobs. For something this important everyone wants it to be perfect.
One of the last worries you have to deal with are the vinyl banner signs. Everyone is counting on you to have gotten custom vinyl banners that will set off the event perfectly. It will be a focal point and you know it has to be just right. But it hasn't even arrived and the event starts in a few hours.
Just when you are almost to the point of panic, the delivery shows up. You rush out the door and hurry to the site. You open the tube and pull out the banner that is so important to the outcome of the event. You unroll it and your heart sinks. How could it have gone so terribly wrong? And all that money wasted...
"Will a "Plain Jane" vinyl banner sign save me money?"
No, they do not. Yes, you read that correctly, and here is why.
You chose the banner as a way to catch attention but at a lower cost. If you add more words or color to the banner it will add to the price, right? Wrong! There is a misconception about this. There are signs that will cost more according to the number of colors you choose, however when you digitally print a full color banner it gives you the freedom to add words and color to your banner, without additional cost!
"How can full color banner printing cost the same as a one color vinyl banner?"
I am going to let you in on a little secret. Full color banner printing doesn't cost the sign company any more than a one color banner The printer doesn't care if it is printing one color or all the colors available, it prints the same. There is no additional labor for the printer, or for the production department. Not only that, but the inks used in the printer all cost the same. There is no additional charge to us for colors, unlike so many computer printers.
That gives us the opportunity to offer our customers photo quality full color banner printing for the same price as a black and white. What that means for you is you can get a "cheap" banner that looks like a million bucks. So go ahead, add a few words, a picture or two and let your imagination fly. The sky is the limit when it comes to vinyl banner signs!
For more information about finding the right photo for your custom vinyl banners read this.
There is more to the success of your banner than how many colors you use. The material is important as well.
"Does that full color banner say Æ¥€ÊØ?"
The size of your vinyl banner signs and the writing that you put on them is a balancing act. Imagine an old fashioned scale that has a dish on each side. The key is to get the dishes to balance. If you make your vinyl banner signs small to save money that side of the scale moves slightly. Now force a lot of verbiage onto the banner and watch the other side of that scale slam down to the ground. Making a smaller size and stuffing the words in is not a money saver. It becomes a waste of money when the message makes as much sense as the subhead above.
Choosing the right message to capture your audiences attention is important. If you keep it concise and legible and choose a size for your custom vinyl banners that will allow ease of reading, your scales will slowly begin to move and eventually balance out. The overall size of your full color banner is also a direct correlation to the impact that it makes. The larger the banner the more impact it has. Never sell yourself short on size to try to save a few dollars. Create the banner that will give your message and appeal to your target audience. Use good quality graphics with colors that will attract attention and are in proportion to the size of your custom vinyl banners.
If you would like to instantly get a price you want to visit here.
Still need more info? No problem! Scroll down.
"If a picture paints a thousand words, what are your vinyl banner signs trying to say?"
Although using a graphic on a full color banner can make a positive impression, using a poor quality graphic will have the opposite effect. A poor quality graphic will not print up well on custom vinyl banners. It will look distorted or pixilated. So what is a person to do? There are a number of ways that you can get quality graphics.
You could have our graphic artist design something for your custom vinyl banners. This is a very good choice if you are hoping to create a logo for your company. Our graphics department will guide you through the process, give advice when asked and help you develop a logo that will represent your business. A logo does take a little time to develop, but many businesses feel it is a good investment. If this isn't the right answer for you, we suggest getting a graphic from the web.
For quality as well as selection we recommend Istockphoto.com. This site has an amazing collection of graphics that you can choose from to get the most from your full color vinyl banner printing. And with the advanced search options you can narrow your search quickly and easily. If you don't have something specific in mind, you can look through the millions of graphics and gather ideas. Once you know what graphic you want to use note the number of the file and give us that information. We will take care of it from there.
Not sure how to get started? Here is a video that will show you how to find your way through Istockphoto's wide selection of graphics.
But what if you need something very specific for your full color banner? A unique subject that isn't available online? Perhaps it is a photo of a specific person. This is when technology is a wonderful thing. The digital camera is now a standard household item just like the film cameras of yesterday. Most of these cameras take a photo of high enough resolution for use in full color banner printing.
Because there is no film to be developed you can take as many photos as you want and choose the best for you. We suggest that you try taking is from multiple angles and maybe even with different lighting. And remember that even if the photo isn't 100% perfect our graphics department can "clean it up". Most of the time this is something that takes us only a few minutes and we do as a complimentary service. If, for some reason, more work will be involved, we will contact you to let you know of any charges before we start, so that you can make that choice.
Finding just the right graphic for your custom vinyl banners has never been easier! Use the graphic to grab the attention of your audience and then give them your message. Keeping it concise and yet interesting is the key to getting the most value from your vinyl banner signs. Are you still struggling with how you get the most impact from your words? This 2 part report is a great tool in helping you choose the right words for your banner.
"What are some finishing techniques to prevent the hemlines of my custom vinyl banner from showing?"
Size matters in full color banner printing...
For all of our " banner geek's" or those of you who don't want to "guess" at what size to make your custom vinyl banners, we present the mathematically technical way to decide on the size of your vinyl banner signs. Once you know the size your full color banner printing will be you will need to decide how to finish your banner.
So, we have discussed colors, sizes, graphics and material. You are all done making decisions for the banner, right? Wrong!
Finishing techniques for vinyl banner signs is one of the often forgotten or ignored parts of creating your new custom vinyl banner. There are a number of finishing techniques, and each is designed to handle a specific type of situation.
The 10 ways to finish a banner edging
No finishing - There may be customers out there who don't want any kind of finishing on their color printed banner. This is a good choice for an indoor banner, especially one that will be viewed up close. A hem will not allow a banner on a wall to lay as flat. Since the hem stitching does not add to the aesthetics of the banner, this is often the finish of choice for indoors.
Hemmed edges with grommets top and bottom as needed. The number of grommets will depend on the size of the banner. This is the most common finishing technique, and is useful for a number of different applications. This is the preferred finishing for mounting against a wall or fence.
Hemmed edges with grommets top and bottom as needed, with rope sewn into the top and bottom hems. The rope ends extend out from the banner edge making ties. The length of the rope can be specified. This application adds versatility and strength to the basic grommet style, allowing the banner to be tied between poles or other secure fixtures.
Hemmed edges with rope sewn into the top and bottom hems. There are no grommets in this finishing technique. Rope extends from the color printed banner to use for tying to supports. The length of rope can be specified. This finishing technique is for color print banners that will be tied between secure fixtures. This is a choice when you need strong construction, it spreads wind forces over the length of the banner.
Hemmed sides with webbing sewn into top and bottom. This is in place of the rope from the techniques above. there are no grommets in this finishing technique. The webbing extends as needed for ties. This is an even stronger construction for color print banners that may be subjected to higher wind loads.
Hemmed sides, webbing top and bottom with grommets spaced as needed (depends on banner size). Adding grommets offers more tie down points, this is especially helpful to support larger vinyl banners to eliminate sagging, if the supporting structure will allow for it.
To support banners on hardware, sleeves can be sewn into the top and bottom, The sleeve can be sized to fit the hardware, The circumference (dia. X 3.14) of the supporting pole, divided by 2 plus an inch will calculate a good sleeve size. This is a good choice for a large color print banner that you are concerned may sag.
In addition to the pole pocket on your color print banner, grommets can be added to the top and bottom in an extra extension above and below the sleeves for more versatility in display options.
Street, or light pole banners are usually finished with sleeves top and bottom with a grommet just below the top sleeve and just above the bottom sleeve. An over-the-street banner is required to have sewn-in webbing with "D" rings which gives reinforcement to the banner adding to the safety .
For large vinyl banners, to add tie points, grommets can be added to the top and bottom, or even the sides.
Remember that the finishing will directly effect the mounting and display of your custom vinyl banners.
"How can I take the sag out of my vinyl banner sign?"
The mounting or display method that you choose for your full color banner will make a huge difference in the way it is received by your audience. Vinyl banner signs should never be hung by just the 4 corner grommets. This causes undue stress and can cause them to tear out of the material.
You should be sure that you have the weight of the custom vinyl banners distributed evenly across. If using rope, we recommend to weave the rope through that grommets, this will lessen the weight load on each grommet. We also suggest that you can make a knot in the rope that will help keep the banner taut and allow the rope to take the strain.
You now have the information necessary to put together attractive custom vinyl banners. But where can you use them?
"Where are the "in crowd" of custom vinyl banners hanging out?"
When you came to this page there is a pretty good chance that you already knew where and why you wanted to have a vinyl banner. Now that you have a little more information, chances are you will consider vinyl banner signs for other purposes as well. With their versatility and low cost they are a great choice for a number of applications. Here are a few ideas to get you started
full color banner printing of church banners
vinyl banner signs for school banners
custom vinyl banners at point of purchase
full color banner printing of indoor wall banners
hanging banners to hang from ceiling inside of a store
vinyl banner signs for trade shows
over the street custom vinyl banners
light pole vinyl banner signs
full color banner printing for events
custom vinyl banners for Boy Scouts
vinyl banner signs for Girl Scout
full color banner printing for marketing promotions
vinyl banner signs for grand openings
custom vinyl banners for seasonal sales
the possibilities are endless!
We hope that this information has helped you to make informed decisions about your full color banner printing. If you have any questions you can contact us and we will be happy to assist you.