Custom ARMOUR-Wood Signs
---
With the strength of a traditional wood sign, with an added high gloss aluminum covering for a finish that will last, ARMOUR-Wood Signs truly are the best of both worlds.
ARMOUR-Wood Signs have a solid, plywood core permanently sealed with aluminum sheeting factory bonded to both sides of the surface. The thickness and density of this sign board makes it one of the strongest sign panel products in the industry with greater impact and wind resistance than Alumalite, Alumacorr, Dibond or Wood Painted Sign Panels.
The Aluminum sheet bonded to the solid wood core comes with a high gloss finish. All edges of the sign are sealed with a plastic 1/2" cap which not only protects the product from moisture, but also creates a finished look. When using a contrasting color like black edge cap on a white sign, the black edge cap automatically serves as a decorative 1/2" border on the sign. If you don't want a border on your white sign, choose white trim cap instead so the trim cap will blend in.
When you need a sturdy rigid sign panel designed to last for many years outdoors, ARMOUR-Wood
is highly recommended for permanent , construction site signs, real estate signs, wall mounted signs, post and panel signs, hanging and fence mount signs.
Here are the key points to know about custom ARMOUR-Wood signs:
ARMOUR-Wood Signs have the highest rigid
panel strength of all sign materials
The sign panel itself is made up of a solid
wood core that is factory sealed with an
aluminum, armour plate shield on both sides
Comes in an extra heavy duty, SOLID,
1/2" thickness
ARMOUR-Wood signs last for decades
indoors
Uncoated Economy Grade Signs are rated
to last up to 3 years outdoors
Coated Premium Grade Signs are rated to
last 6-8 years outdoors
ARMOUR-Wood signs can be one-sided
or two-sided
Signs made from ARMOUR-Wood have a
high tolerance for extreme cold and hot
weather
ARMOUR-Wood is rustproof and waterproof
ARMOUR-Wood sign panels are highly rigid
and weigh only 2 pounds per square foot
They come standard with edge caps that
provide a professional, finished appearance
Edge caps permanently seal the edge of
the sign
These signs are easy-to-mount
(mounting kits are available)
Plus, ARMOUR-Wood signs are highly versatile:
ARMOUR-Wood custom signs can be made
any size you want
Any design, artwork, photo or logo can
be used for ARMOUR-Wood custom signs
And your new sign can be virtually any
color you want.

Sometimes, all you want is the bottom line!
Our online ARMOUR-Wood sign pricing tool instantly calculates the exact prices on ARMOUR-Wood metal signs, shows you quantity discounts, and even lets you compare this product to other metal sign alternatives!
And don't forget…at BestBuySigns, shipping for ARMOUR-Wood signage and all other indoor and outdoor signs is free, and orders outside the state of South Carolina are tax-free!
We offer more colors for ARMOUR-Wood signs than anyone out there on the web!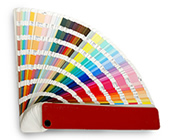 You can now choose from ANY color under the sun when designing your new signage. You can even choose a reflective color!
Specialty finishes including brushed gold, mirror gold, brushed silver or mirror silver are available in a standard .040" aluminum thickness. Or for thicker signs in these finishes, check out our Dibond sign material, which is made up of two aluminum sheets on either side of a solid plastic core.
Big or Small, We Do It All!
While most sign companies are setting limits to what size your ARMOUR-Wood sign can be, we are printing ARMOUR-Wood signs in every size imaginable!
ARMOUR-Wood signage from BestBuySigns comes in sizes up to 4' x 10' in a single, seamless sheet. This is the very largest, rigid, seamless ARMOUR-Wood sign panel available in the market today. If you need a sign that is larger than that, no worries! Just let us know, and we'll make sure to get you any size ARMOUR-Wood sign you need.
Displaying ARMOUR-Wood signage is easy! We offer installation kits and accessories that will help you mount your new sign to wood, metal, stucco, brick masonry or concrete! Or if you'd like to hang your ARMOUR-Wood metal sign, just let us know. We can drill holes to the top of your sign to simplify the hanging process!
"At first I thought that I would never be able to decide which metal sign material to go with but then I called your company and Lori helped me choose which one was best for me.

I did not know that there were so many different types of sign materials

Thank you so much for all your helpful information.

Until next time,"

Robert Davis
The Davis Group
Fort Lauderdale, Florida

"Your company's ordering process was smooth, and we are very satisfied with the signs you produced for us.

I can say that I searched for our needs via the web for a few days before coming across your site. I found it very easy to understand what I was getting from you and all communication was excellent.

Again thank you for your time and product."

Jason Maurer
Cardinal Health
Groveport Ohio

Frequently Asked Questions About ARMOUR-Wood Signs
"What is the life span of ARMOUR-Wood signs?"
The ARMOUR-Wood material itself will usually outlast the artwork on your sign. Our uncoated Economy Grade Signs are rated to last up to 3 years outdoors while our Premium Grade Signs coated with an optically clear, UV Protective Lamination are rated to last 6-8 years outdoors. ARMOUR-Wood signs can last for decades indoors.
"What are the most common uses for ARMOUR-Wood metal signs?"
Corporate
Architectural
Tradeshow
POP Displays
Contractors

Real Estate
New Construction
Commercial
Marina
Directional

Hospital
University
Military
Industrial
Business
"Are custom ARMOUR-Wood metal signs suitable for installation between two posts?"
On a scale of 1 to 10, with "10" having the highest relative strength, here's how each aluminum sign background material compares to one another:
"How far away will the vinyl letters on my custom ARMOUR-Wood sign be visible from?"
Letter Visibility Chart
| | | |
| --- | --- | --- |
| Letter Height (Inches) | Distance For Best Impact | Maximum Readable Distance |
| 3" | 30' | 100' |
| 4" | 40' | 150' |
| 6" | 60' | 200' |
| 8" | 80' | 350' |
| 9" | 90' | 400' |
| 10" | 100' | 450' |
| 12" | 120' | 525' |
| 15" | 150' | 630' |
| 18" | 180' | 750' |
| 24" | 240' | 1000' |
| 30" | 300' | 1250' |
| 36" | 360' | 1500' |
| 42" | 420' | 1750' |
| 48" | 480' | 2000' |
| 54" | 540' | 2250' |
| 60" | 600' | 2500' |
"How do I know that my custom ARMOUR-Wood sign will turn out the way I want?"
Are you concerned that your custom ARMOUR-Wood sign may not turn out the way you want?
After all, we are probably hundreds of miles away from you so how can you be certain your order will turn out right? Fortunately, it only takes seconds to transmit full-color custom ARMOUR-Wood sign designs from our computer to yours because e-mails travel so fast these days.
Upon order approval, here's how the process works:
First, your order goes straight to the Art Department
Our Graphic Designer will then e-mail you a proof
(a "proof" is a picture of what your sign will look like)
Once you review the layout, let us know if you would like to see any changes, and …
If you have any changes, we will e-mail you proofs as needed until you're completely happy with your design.
"Do you offer any buyer protection guarantees?"
Yes! Every ARMOUR-Wood sign order comes with a 100% Buyer Protection Guarantee
Sometimes, we make mistakes. We are only human after all. But it's how a business handles mistakes that counts, wouldn't you agree? So if we do happen to overlook something on your order, we will bend over backwards to make you happy. We stand behind our work with a 100% Customer Satisfaction Guarantee.
We will promptly replace any product that is defective in workmanship or that is different from what you approved. And for your trouble, you'll even get a very pleasant surprise gift.